Off the Menu: Buena Moments by Guest Bartenders
is a series of guest submissions serving up their own personal stories of good life moments, in hopes of sharing how much beauty each of Our Buena Vidas holds. I love how we can find these moments in our everyday lives. I know that I am not the only one living this buena vida because I talk to and see people that are constantly in awe of how lucky they are to be living such a good life, even if they only catch a moment of it everyday. Once as we were sitting around a table on the shoreline of a local beach, a friend, paused from our meal of freshly caught fish, looked around and said, "I love you guys." I didn't have to ask. I knew what she was thinking. I had been thinking it too. It was a simple,
buena
moment
.
If you would like to submit a story to this series,
click here
. Today's post is by Guest Bartender, MrsTee.
You could connect with her on Love, Life, Laughter.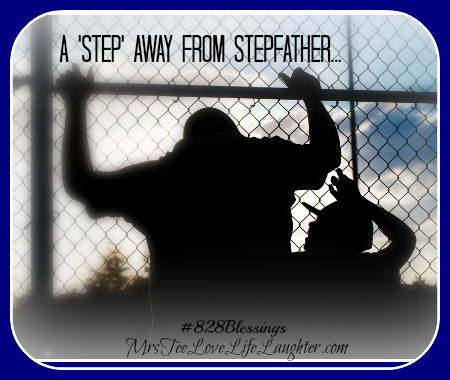 Image from MrsTeeLoveLifeLaughter.com
My Single Mom Complex
I met and married my Hubby when my oldest son (a/k/a The Teenager) was only 4 1/2 years old. His father was in his life but on a limited basis. He saw him perhaps once a week and other than that time I was the full time parent and influence in his life along with my Grandmother. I was prepared to be the Single Mom but I didn't always feel that I was fully equipped.


I'm sure many of your Single Moms out there or even women raising children on their own due to different situations and circumstances know that raising a boy as a woman can present challenges. No matter how we long to be everything the need and all the support they require there is still a place designed by God that a man is meant to fill. A role that a father is meant to play in a son's life.


A Man's Influence
Even that early in my son's life and development I longed to be able to give him that extra guidance he needed. I could see where it was lacking in different areas. Ways that simply because I was a woman I didn't have the knowledge to pass on. Of course I tried, I researched and I had the men (cousins, uncles, etc.) in my family you gave both he and I support but it wasn't the same.


I knew as a child who grew up without her father, that things may be a challenge for him. As a girl it is somewhat different. The voided spaces in my life are not the same as they are for a boy yet they are still there. I didn't want that for him. I began to pray for God to help me be found by the right man for both my and my son.


A 'Step' From Step-Father
I had some ups and downs. Mostly downs and mainly because I was listening to myself instead of the leading of God. Then I met my Hubby. Some may say that it wasn't the perfect situation. He wasn't 'in the church' and frankly most of my family didn't approve. Yet, I felt a confirmation within my heart and my soul that it was him. He was a comfort, a friend, a provider and a man who wanted nothing more than protect and keep his family.


When we married, we had an instant family with my Hubby's 2 sons and my own. Yet from the start, there was never a distinction in his treatment of his sons from mine. If they were given something so was mine, if they were disciplined so was mine. What was good for one was good for all. They were always told that they were brothers no matter what and to this day if you ask any of them how many brothers they have they will each answer 2 (always including my son).


There are many times now that I hear my Hubby and the Teenager speaking in hushed tones about different things: responsibility, education, earning money and (ugh) even girls. He is there when my son needs a man and the influence of a man's perspective. For this I am grateful.


Brought to you by...